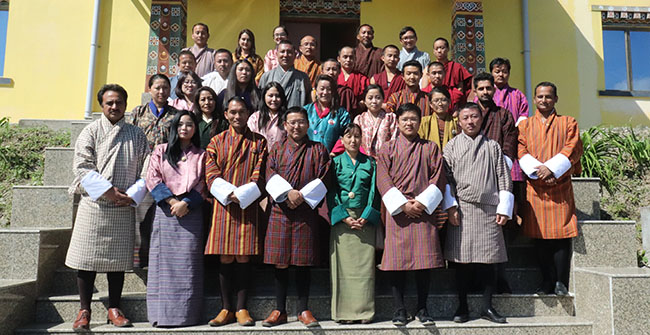 Two-day awareness workshop on 'Intellectual Property and Patent Database Search' was held on 30th till 31st October, 2019 for school teachers, municipal, local government, and Civil Society Organization and from the monk body.
The main objective of this workshop was to advocate on the importance of innovation and protection of Intellectual Property Rights and Patent database search techniques for research and innovation. The programme was jointly organized by Center for Appropriate Technology (CAT) in Jigme Namgyel Engineering College (JNEC) and Department of Intellectual Property (DoIP) under Ministry of Economic Affairs.
The event was attended by 35 participants from various schools in the region; such as Minjiwoong Central School, Gomdar Central school, Jomotsangkha , Martshala Central school, Orong Central school, Karmaling HSS, Garpawong MSS, Samdrup Jongkhar Primary school, Dewathang Primary school and Dungsam Academy, local government, Samdrup Jongkhar Thromde (municipal), Samdrup Jongkhar Initiative (SJI) and Choki Gyatsho Institute (CGI).  The first day programme was entirely dedicated to school teachers and on the second day it was for other officials from other responsibilities.
Seven faculty members of JNEC and three officials from DoIP resourced the programme. The contents were tailored to suit the specific spectrum of professions that the participants are coming from. The morning session of the workshop covered on the overview of Intellectual Property System; Innovation, IP and relation to Economic growth, Introduction to Patent, Industrial Designs, Trademark, Copyright, Geographical Indication, Traditional Knowledge and Cultural Expressions and Plant variety. While in afternoon, participants were provided with hands-on learning on using PATENTSCOPE to search patent information from the database. The event concluded with 'National IP Policy and components' by DoIP officials letting the participants be informed on policies developed for IP in the country, their objectives, the status, initiatives and their awareness programs related to IP.