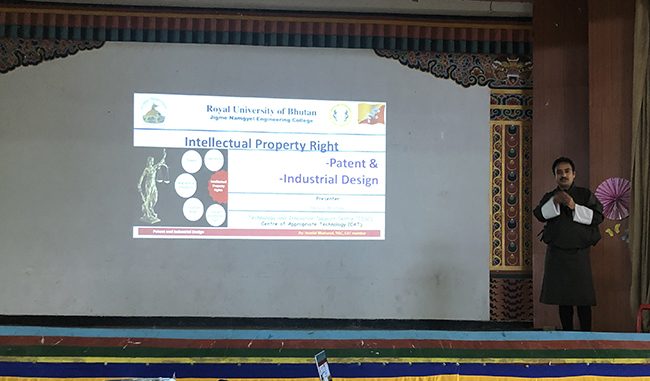 With an aim to support students in the field of research and innovation and sensitize on Intellectual Property Rights (IPR), an awareness workshop on 'Innovation, IPR and Patent Database Search' to final year students pursuing Bachelors degree and diploma programmes on September 21, 2019.
The programme made students to reflect on importance of innovation and its influence in economic growth. As country graduates from Least Developed country (LDC) category, it foresees withdrawal or reduction in Official Development Assistance (ODA) to Bhutan. Thereby, generating domestic revenues through economic diversification, sustainable economic growth and job creation is seen as a priority. In addition, different types of Intellectual Property Rights (IPR) ranging from Patent, Industrial Design, Trademark, Copyrights, GI have been presented. This is targeted to made students aware of what are those IPR and how rights can be reserved and its impact on individual as potential researcher, innovator, or business person.
Further, the programme also demonstrated students on patent database search. In particularly, accessing to free patent database: Patentscope prepared by World Intellectual Property Organization (WIPO). They were informed on use of patent information from database to develop their intellectual ability in bringing diverse project topics and ensure they avoid infringement or duplication. The programme was organized by Centre for Appropriate Technology (CAT) in Jigme Namgyel Engineering College resourced by members of Technical Innovation Support Center (TISC). Similar programme will be delivered to schools and relevant organizations within Samdrup Jongkhar region with supports of Department of Intellectual Property (DoIP), RGoB.