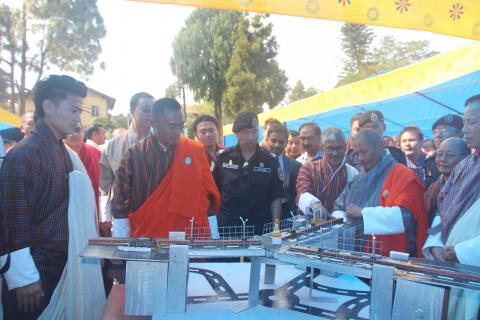 On 27th October, as a part of inaugural ceremony of B.E. in Power Engineering, exhibition titled 'INNOVATION 2015' was showcased by students of Jigme Namgyel Engineering College.
The students from various departments in the college in fact were found industriously preparing from days ahead in applying their best learnt skills and creativity in form of exhibition. The exhibition consist of potential models and design displayed by students of Civil, Electrical, Mechanical, Information Technology and Electronics & Communication Departments. The knowledge and ideas of students displayed in form of well-crafted models received huge appreciation from the audience. All the technical related models designed are for meaningful application in the advancing future of the nation.
Few schools in the region were invited to impart and parade on how knowledge and skills can be potentially transformed into reality for the benefit of humanity. Community of Dewathang, Dewathang Primary School, Dungsam Academy and Garpawoong Middle Secondary School attained the exhibition on 28th October, 2015.