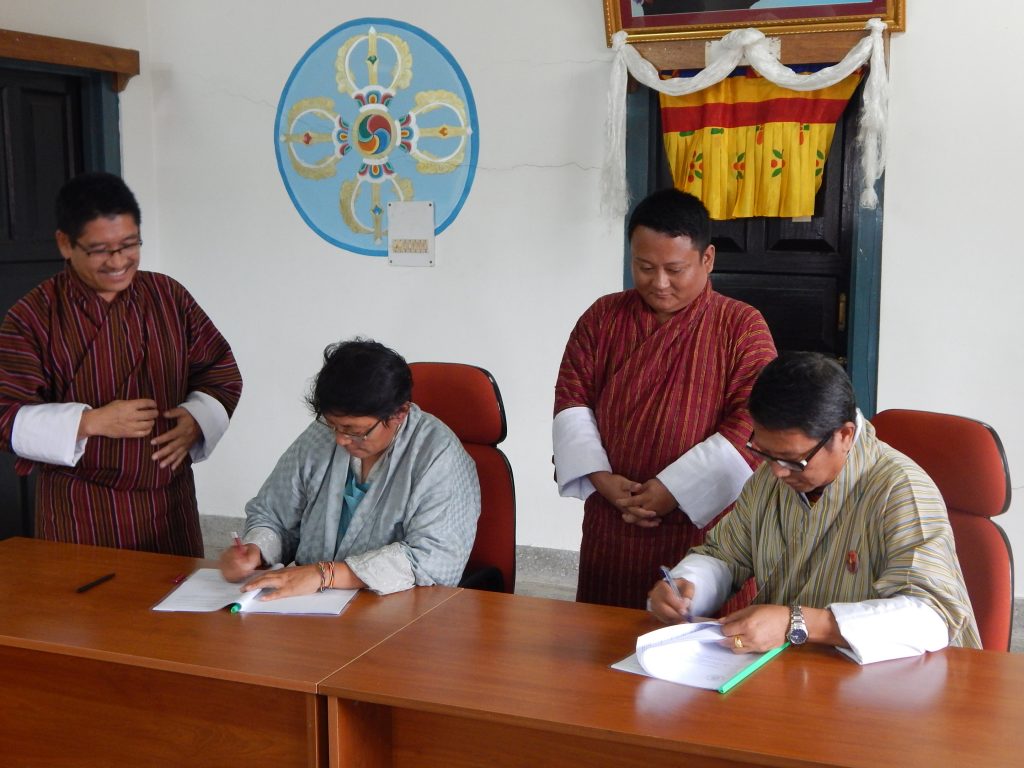 The Center for Appropriate Technology (CAT) under Jigme Namgyel Engineering College (JNEC) signed a Memorandum of Understanding (MoU) with SamdrupJongkhar Initiative (SJI) to accelerate cooperation between the two institutions for a better living community and foster Gross National Happiness.
MoU was signed by Dasho Neten Zangmo, the Executive Director of SJI and Dr. Andu Dukpa, the Director of JNEC on 12th October, 2016 accompanied by the Mr. Cheku Dorji the coordinator of Zero Waste of SJI and Mr. Norbu Tshering the coordinator of CAT.
SJI is the project under the Lhomon Society, a registered Civil Society Organization (CSO) in Bhutan initiated by His Eminence Dzongsar Jamyang Khyentse Rinpoche to achieve a self-reliant community in SamdrupJongkhar Dzongkhag. Upon SJI's recognition, JNEC became the premier research center of the Royal University of Bhutan and the location of the college made it as a key asset and resource of SamdrupJongkhar dzongkhag.
Most of the projects undertaken by the center in collaboration with SJI was installation of prototype solar dryer in Lauri gewog, rainwater harvesting system in Dewathang Primary School and waster segregation project using locally available materials.
On signing the MoU Dr. Andu Dukpa assured the commitment of the CAT towards working with SJI for the benefit of the communities in Dewathang, Samdrup Jongkhar and other areas in Bhutan that would embrace the use of appropriate technology. On the other hand Dasho Neten Zangmo stated that it is a defining moment for both the institutes and such partnership will facilitate the institutes in achieving the larger goals of self-reliance.
Hereafter the CAT and SJI will help in achieving self-reliant community through using ecological sensitive technology such as use of local materials, adapt local situation and ensure affordability, accessibility and availability.  Further the institutes will always prioritize local needs and consult with local communities and their benefits.